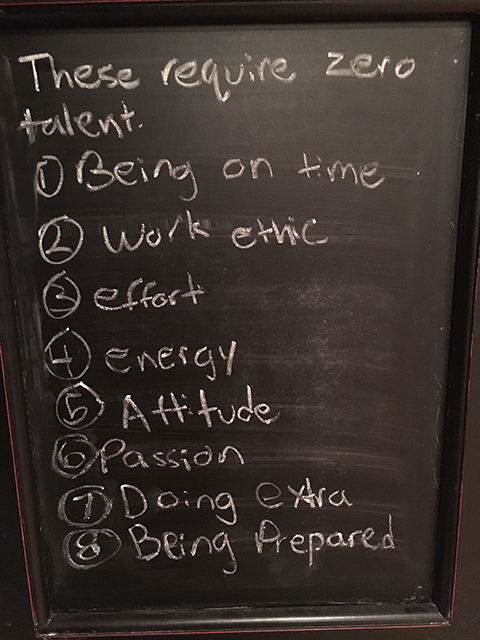 I was blessed to spend the Thanksgiving holiday with my husband's family. On arrival at his sister's house, I was struck by the list on the chalkboard in their kitchen.
(For those of you having difficulty reading the list on the picture I took –featured above– it said:)
These require zero talent:
1. Being on time
2. Work ethic
3. Effort
4. Energy
5. Attitude
6. Passion
7. Doing extra
8. Being prepared
It seems her college-aged son had written himself a reminder of how he wanted to show up for his summer job on the family memo board, and they had kept it up ever since for daily inspiration.
Why was I so enamored of it? Aside from all the obvious reasons, because it's easy to forget—in the high-tech/certification-happy world we live in— about the importance of these kinds of 'soft skills'.
What other skills could appear on this type of list? Well, there's honesty, discretion, accountability, compassion, integrity, a sense of humor…..
And who doesn't want a person with those qualities on their team?
So the next time you are fretting that you might not have the exact skill set someone is looking for, take a moment to consider these soft skills (and any others that might have sprung to mind while you were reading.)
Because I'm guessing you bring them to the table.
** If you enjoyed this post you might also like "Advice for Experienced Job Seekers"