Flummoxed by what to get your boss/colleague? Here's a nice roundup (Keep reading! My suggestion is toward the end)
Frances
The Ultimate Holiday Gift Guide for Human Resource Professionals
By Matt Krumrie – Originally published on ZipRecruiter.com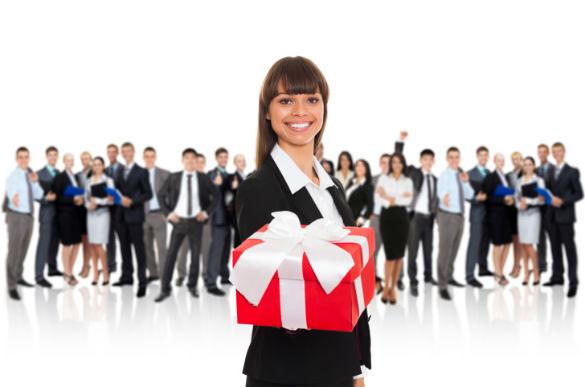 What types of gifts do recruiters and HR professionals enjoy receiving? The possibilities are endless. But the most important may be the most simple: Saying thanks.
"It's amazing what a simple 'thank you' can do for a relationship," says Lisa Panarello, Founder and President of Careers Advance, a full service, New York-based Center for Professional Development
"I make it a point to say so for even the smallest of gestures or thoughts, especially when they involve time. People appreciate being appreciated. It's a feel-good moment for all."
When Panarello considers how often someone has helped her, or to what extent, she likes to say 'thank you' by taking things to the next level. For instance, she sends every client, associate and friend a $20 gift card for any referral who retains her services.
"My business is built on referrals and I believe strongly in thanking those who have contributed to my 12 years of continued growth," says Panarello. Another example: She's about to send one of her longest standing clients an engraved clock from Things Remembered to express her heartfelt gratitude for their history together. Last year she gave an associate a homemade gift basket of fun kitchen items for her newly decorated apartment.
"Gifting says you care, you appreciate and you value the relationship," says Panarello. "It doesn't have to be an expensive item, just one that has perceived significance or use."
If you are planning on sending some 'thank you' cheer this holiday season, consider universal items for mass connections and personalized items for those you know more intimately. Here are few ideas from Panarello, that are all available for $50 or less (one can certainly spend more on these items as well), and are all gifts she has received, would like to receive or given to clients over the years:
Lapdesk: Great for people who use tablets and other digital tools, especially at home on bed/couch)
Mini travel mouse: These are much easier to use than the built-in pad on laptops, especially when flying. Check out this one from Staples for only $17
Staples Gift Card: Everyone needs office supplies and independent professionals or small businesses may not have an endless supply like large organizations. Consider pairing the gift card with a personalized pen, stapler, desk-blotter calendar or other usable items, says Panarello.
Barnes & Noble Gift Card: Everyone can find something at Barnes & Noble. Consider pairing it with one of their many unique bookmarks.
Personalized gifts: If the person truly knows the giftee, personalized gifts are always a hit for the golf, sports, music, cooking, travel, arts and entertainment and photography enthusiast, says Panarello.
Music fan: Vintage LP record coasters: These are cool. Trust us.
For the foodie: A cookbook of favorite chef or type of cooking/baking cuisine or Bed, Bath & Beyond gift card.
Sports junkie: A Sports Illustrated subscription or memorabilia from one's favorite sports team (picture, autographed baseball, hat, etc.)
For the business traveler: Travel case for man or woman
The golfer: Golf balls or personalized mini golf bag for desk. Remember – you can get almost anything engraved at Things Remembered.
Coffee table books: Topics vary greatly from sports, artists, music, history – again based on person's specific interest.
Trivia calendar: 365 tear-off trivia calendar for desk or home.
Here are some additional thoughts and ideas from a variety of sources from around the country:
Mark Babbitt, co-author of A World Gone Social says his favorites include an Amazon Kindle, Bose headlines or single malt scotch whiskey, among others, but the gifts he's received as a hiring manager or executive that meant the most to him have nothing to do with materialistic things. Here is a list from Babbitt:
A Signed Book: As a team-building exercise, Babbitt took his team to a Stephen Covey speech. "Overnight, that experience had a positive impact on how we worked together," says Babbitt. That Christmas, he ordered a signed copy of "7 Habits of Highly Effective People" for his staff members. The best part? You don't have to stalk the author to get a book signed, Kepler's has many autographed bestsellers available for purchase.
Framed Pictures of the Crew and Their Families: "Wherever I work, there is a strong sense of family," says Babbitt. "Today, we call that community. So I loved it when I got a collage-style, framed picture of all 11 employees with their families. I still have it today and think about how our work together helped raise those families, pay for college and more."
A gift that benefits the family: When Babbitt was working as a national recruiter for a start-up he was away from home several days a week. That travel left his spouse home alone, taking care of children and all household responsibilities. "My CEO and HR Director conspired to provide housecleaning services for several weeks," says Babbitt, calling it "a blessing to my family during a very busy holiday season."
Gift that gives back: While the ideal gift a client could give a recruiter would be exclusivity on one or more contract or permanent roles, nothing says Happy Holidays like a LinkedIn Premium subscription, says Gretchen Stanford, a Contract Staffing Manager within the contract marketing vertical with PrincetonOne, a national staffing and recruitment solutions organization. "It's a gift that will actually benefit the giver," says Stanford. Other budget-friendly and effective ways to thank recruiters, says Stanford: 24-hour turnaround on candidate interview feedback, marketing department org charts and unsolicited recommendations on LinkedIn.
Something to share with the team: Tim Mayer, Senior Talent Acquisition Specialist with Mortenson Construction, says while gift cards to restaurants or movie passes are appreciated, he appreciates a nice snack package he can set out to share in the team workspace. "It provides an opportunity for the team to slow down and stop to enjoy a treat while conversing with colleagues," says Mayer.
Restaurant gift cards: As for that restaurant or gift card they can be a big pick me up, says Frances Cole Jones, (francescolejones.com), author of the book Wow Your Way into the Job of Your Dreams! "A restaurant gift certificate can be used anytime you're down in the dumps or you want to celebrate a special occasion," says Jones.
Subscription of the month Club memberships: This is a favorite of Darlene Price, an executive coach and trainer who is also author of Well Said!: Presentations and Conversations That Get Results. For example, one of her long-time clients is a VP of Human Resources who works tirelessly to recruit, hire and train top talent. She hires Price on a regular basis to coach the company's executives. To show her appreciation, during the holidays Price presented her with a 'flower of the month' gift. It comes with a beautiful floral card attached to each arrangement that reads, "Thank you for helping people bloom where they're planted."
Said Price: "She loved it! If you can find the perfect gift that fits the recipient (Price knew her client loved flowers), subscription gifting can be a great way to show appreciation, stay top of mind and truly personalize the gift. It's the gift that keeps on giving – once every month."
A bottle of wine: Dana Manciagli, author of Cut the Crap, Get a Job, says a bottle of wine, with a nice store-bought bag is a great way to say thanks. "Wine is a favorite gift since the recipient can either drink it or serve it to guests they have over the holidays or post-holidays," says Manciagli.
An experience to remember: This is also the time of year where recruiters and HR professionals are also thinking of ideas for their clients. These ideas all say thanks in their own unique way. Kurt Rakos, Partner of Skywater Search Partners, says his company wants to make it a memorable experience – not just for the client, but for the family or those close to them. They like to provide tickets – and not just any tickets – the best possible available – to sporting events, concerts or theatre events.
"Our view is that if we send a client or a colleague to a show or an event the tickets should be so good that it really is a real experience," says Rakos. "We recently sent a client to a concert and we were able to secure seats in the first row. She took her daughter and she could not thank us enough."
What is on your holiday wish list this year? What are the best gifts you have received or can recommend? 'Tis the season – to be the thankful. Say it with these tips in mind.