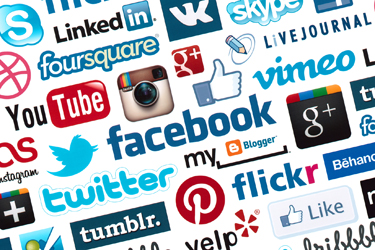 As sad as it is to say, summer is over. The time has come to retire our flip-flops and—with that—our somewhat laid back attitude toward what and how we post on social media.
For many, it is also the time to attack your job search with renewed fervor.
With this in mind, here's a quick, down-and-dirty primer on what to remove, what to keep and how to present your best self on Facebook, LinkedIn, and Twitter—all of which are your shop windows to the world.
First, a quick look at what I deem inappropriate for Facebook. Among the basics:
Any photos where you (or your companions) look intoxicated/medicated
Any photos showing you in revealing clothing
Any photos in which you (or your chums) are holding alcoholic beverages.
Any posts that include profanity
Any posts that could be construed as racist/misogynistic
Any posts that boast about sexual conquests
Any posts that badmouth your current employers
Any posts that declare you'd rather be shopping/hanging out with friends/getting a Slurpee than at an office.
Any posts that complain about your job search
In addition, I will admit to the following pet peeves:
Posts that talk ad nauseam (pun intended) about your food allergies/eating plan/body fat percentage/workout routine
Posts announcing your breakup with your boyfriend or girlfriend (and how you're feeling about it…minute to minute)
Pictures of rainbows/unicorns/fluffy creatures
Dubiously sourced, inspirational quotes.
Next, my rules for Twitter:
Like Facebook, Twitter began as a way to make your opinions known, and one of its supposed 'benefits' is its immediacy. But how often is our first reaction our best? I say, rarely. Consequently, and forthwith, my #1 rule for Twitter:
Tweets are forever: Don't tweet anything you wouldn't want to see on the front page of the New York Times.
After that, the other elements I consider mandatory:
Be amusing without being mean-spirited.
Offer actionable information people can use to run their business, or their life, more efficiently.
Do not fall back on abbreviations, emoticons, and/or any other trappings of the high school set. You're not in high school anymore– your tweets shouldn't sound like you're stuck in detention.
Now that you have those accounts in-hand, let's take a look at LinkedIn.
What is Rule #1? You must add value every time you interact.
What do I mean by this? Well, the same way you don't enjoy receiving an email, post, or IM from a friend along the lines of, "Hi, I'm very special so I was thinking you should do X for me" your potential contact or boss doesn't enjoy receiving an email, post, etc. from you saying anything along the lines of, "Hi, I'm really talented and I think you should do me a favor/give me a job."
Make sense?
So what should you do?
First, subscribe to LinkedIn's Premium Service so you can send people In Mail. Why? Because many people don't respond to every request to LinkIn they receive. Rightly or wrongly (a discussion for another time) they don't want to give anyone and everyone access not only to themselves but to a network they have carefully curated.
With this in mind, when you do write them make it clear you respect that boundary. This might sound like, "Dear Mr. So-and-So, I am writing you via in-mail as I recognize it's unlikely you have the time/stamina/inclination to respond to every request to link in, but I wanted to let you know how much I admire/appreciate your work in X field (be specific!) and I was hoping my (articulate a skill you have) could contribute to you/your firm's goals."
Now that's a note that's likely to get a reply.
Frances Cole Jones