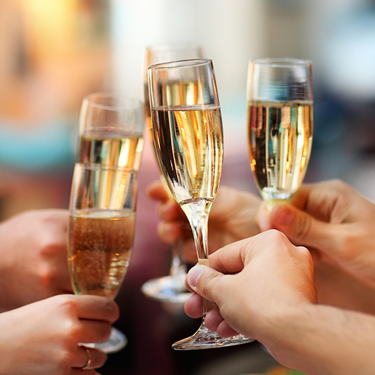 As we head into a season of weddings, anniversaries, reunions and whatnot, any number of us are likely to be asked to make a toast. With this in mind, I thought I would put together a few do's a don'ts for making your toast as memorable as the occasion it celebrates.
A common misconception I bump into is that because a toast is generally short (Please note: it should be short) and the crowd will have had at least one drink, (if not more) you don't have to do that much preparatory work. I'm here to tell you that you do. Or at least you do if you want your toast to be memorable.
Since it's likely you were asked to give the toast because your connection to the person in question is unique, you want to milk that unique element for all it's worth.
For example, my friend Doug had to give a toast at his brother's wedding. The tricky bit was that a New York Times bestselling author and a well-loved television personality had also been tapped to give toasts—one just before him, one just after. How could he put together something that would stand out?
My advice to him was that since no one there would have the same relationship to his brother that he did, highlighting that connection and building from there was sure to make what he said unique. At that point Doug remembered realizing that his brother's fiancé was "the one" from various changes in his brother's dating behavior during the couple's courtship. Bingo. Only he would know this, because only he was privy to that inside information. These alterations in his brother's mating rituals became the foundation for a funny, heartfelt, memorable toast.
(2 a. But not too personal)
The above said, use common sense. A toast is not the place to air dirty laundry/release skeletons from the closet/dig up buried grievances/settle a score, etc.)
If you're thinking point 3 directly contradicts point 2, you are correct—it is, nonetheless, true. Beginning with a (I'll say it again: short!) story is a great way to capture and retain people's attention, but you want to close by tying your story to a universal quality everyone in the room is likely to have experienced: generosity, a sense of humor, an appetite for adventure, etc. Doing so reminds everyone there why the person, or couple, or institution in question is as dear to them as they are to you.