By Ritika Trikha, CareerBliss Writer,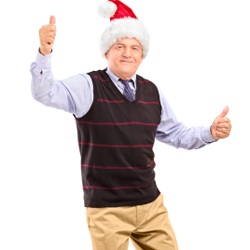 Things are always a little hectic at the office during the holidays — what with all the parties, vacations, gift-giving and décor. Many folks don't realize it, but the holiday frenzy actually brings great opportunities for you to step up and prove your worth.
"Too often the holiday-spirit seeps into the office, resulting in late arrivals due to holiday fun the night before, long lunches while presents are shopped for, or early departures to prepare for evening festivities— not to mention excessive web surfing for last minute holiday gifts," says Frances Cole Jones, author of How to Wow: Proven Strategies for Selling Your (Brilliant) Self.
The holidays are no time to take your foot off the pedal. While everyone else is a little checked out, the holidays can give you a wide open window of opportunity to show your boss to notice just how irreplaceable you are.
1. Learn a Skill Few People Know in the Office
If you really want to go above and beyond, learn and develop a skill that's sparse in your office. When many of your talented colleagues go off on vacation or take time off during the holidays, you can use this opportunity to step in and show them what you can do!
Before you know it, your team may even start noticing the next time you take a few days off —that's when you really know that you are truly invaluable.
Check out The Wall Street Journal's must-have job skills in 2013 if you're looking for inspiration.
2. Solidify Your Relationships and Network
Whether they are with clients, vendors or colleagues, many experts agree that the professional relationships you have are valuable to your employer. If you take those relationships away, employers are looking at a lot of missed partnership opportunities externally and potential holes in camaraderie internally.
Take some time this holiday season to cater to your relationships. Hey, isn't that what holiday parties are for anyway? Genuinely get in touch with your network to see how they are and chat it up a bit. The contacts you have are extremely valuable to your employers. Take care of them.
3. Embrace the Company Culture
The holidays are prime time for your company culture to shine in all its glory. If your company culture is extremely gregarious, for instance, chances are you are looking at some holiday singing competitions, gift exchanges and parties.
Get involved. Participate. Showing your face around this time is a great way to show that you do, in fact, fit into this company culture. Company culture misfits are a huge concern to recruiters and hiring managers alike. Make an effort to enjoy your company culture!
4. Keep Your Foot on the Gas Pedal
Holidays can be a turbulent time for business. It could be for the better (more business means more work) or the worse (less business means more concern).
"If your office does slow down, ask your boss if there's any particularly gruesome project they need tackled," Jones says.
Don't be the guy who is MIA during the holidays. If you are truly irreplaceable, your leaving for the holidays should put a damper in the office.
5. Just Be Your (Best) Self!
This is the easiest way to be unique and irreplaceable — just be you! There is literally no one else like you. Your sense of humor, positive nature and personal hobbies are all things that are valuable to any office. Never be a job chameleon — trying to be someone who you are not. Your true, unique perspective is much more desirable.
When things are going well, "Sit down with your boss and talk through a strategic plan for the New Year. Ask: 'Is there anything I can do today to position myself for promotion in 2013?'" Jones suggests.