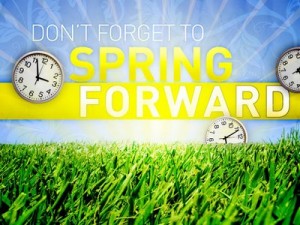 This coming Sunday– Daylight Saving "Spring Forward" Day—is, without question, my favorite day of the year. In fact, the good feelings it engenders leave me thinking it should be a national holiday.
This year it feels particularly welcome because, no matter where you live, I'm guessing your winter was a beast.
In my case, the unrelenting cold and snow had left me feeling somewhat wow-free, so last week I called my nutritional muse, Lora Krulak. Lora specializes in using nutrition to help you look and feel your best, and what she said was so helpful, I wanted to pass it along to you.
We began with the fact that I currently look like I've been growing mushrooms in the basement all winter—in other words I'm incredibly washed out.
Here's what Lora said I (and you!) can do about that:
Lora:
I recommend drinking beet and/or carrot juice since the beta-carotene in both vegetables will give your skin a bit of a glow. In fact, in France, many of the products sold as "tan accelerators" use these root vegetables as their ingredients.
I also recommend having greens in your juice. These flood your body with oxygen, giving you a burst of energy that will leave your eyes sparkling and your skin glowing.
If you don't live near a juice bar, there's a great green powder called Vitamineral Greens by Healthforce Nutritionals—it's my favorite.
FCJ: What foods can I eat to help with stamina?
LK:  Coffee and chocolate—just kidding.
I will go back to fresh vegetable juice, since anything that has oxygen at its core is going to provide energy and, as a result, stamina.
There are also certain foods that are by nature, "time released," meaning that their calories burn slower, and your energy will not spike and drop from them. Some of these are oatmeal, Greek-style yogurt, avocados (or green smoothies made with avocados….) In fact, there's a recipe I have a great recipe that uses oatmeal AND avocados.
FCJ: The warm weather also makes outdoor exercise more appealing. Is there anything you can recommend to boost hydration?
LK: Putting lemon juice and a pinch of good sea salt (Himalayan, Celtic, or Sel De Mer are my favorites) in your water will help your hydration. The salt helps you hold onto the water, keeping you more hydrated, and lemon juice – although it seems counter-intuitive—reduces internal inflammation.
I also recommend coconut water, which has eleven essential amino acids—and if you add a pinch of sea salt to that, it's like home made Gatorade.
FCJ: you mentioned you had a great recipe that uses oatmeal and avocados— which put a spring in our step. Can you give us that?
LK: Of course! I love this recipe because it's easy to make and keeps you energized for hours:
OATMEAL AND AVOCADO PORRIDGE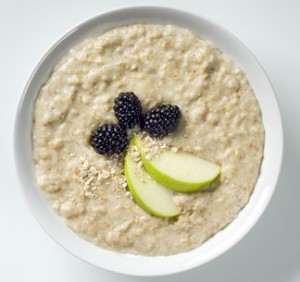 1/2 ROLLED OATS
3/4 C COLD WATER
PINCH OF SALT
1 AVOCADO
1 T MAPLE SYRUP
1/2 t CINNAMON
SOAK THE OATS IN WATER IN THE FRIDGE OVERNIGHT
IN THE MORNING ADD THE SALT, CHOPPED AVOCADO, MAPLE AND CINNAMON, STIR AND EAT.
You can also add ginger or cayenne for a twist.
FCJ: Thanks so much!
If you'd like to learn more about Lora, or ask her any questions yourself, she can be reached at: www.lorakrulak.com/blog