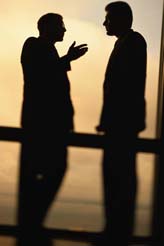 We all know the phrase, "play it down," for making less of an emotion or situation than we might otherwise be feeling. And I think this can be a useful reminder to ourselves when considering how much time and energy we want to devote to a feeling or person or circumstance.
That said, there is a lot to be said, both personally and professionally for "playing it up." For making more of an occurrence than we might originally have thought, or been hardwired to do; and for quickly acknowledging our participation in a "no-fault" situation.
Let me give you an example: Recently, I had an exchange with a conference coordinator with whom I was working on an event. When I arrived at the venue, I discovered she had not ordered me a lavalier microphone—my sole choice was the mic attached to the podium. "Well," she said, "We'll just have to make the best of it."
We? The last time I checked she wasn't the one who was going to be trapped behind a hunk of fake wood for an hour while trying to wow.
Now I understand her thinking—and the thinking of many peoplewhen a dropped ball results in an inconvenience/mistake/accident: their idea is that their minimizing it will lead to others minimizing it.
What I've discovered, however, is that you will get a lot further if you play it up, rather than playing it down. In this instance, I would have been far more impressed had she said, "I am so sorry—this is my fault. Unfortunately there's nothing that can be done about the technology now, but is there anything I can do with the room set up, or the book signing area, that will make you more comfortable?"
Within the corporate world, I always recommend customer service departments play it up, rather than down—overcompensating for even the smallest complaints. Why? Because while most departments respond quickly to high stakes situations, many respond poorly, or not at all, to circumstances that are less than dire. The trouble with this choice is that these disgruntled customers can now take their grievances to the virtual streets, setting up URL's such as  www.paypalsucks.com or creating a music video about poor luggage handling along the lines of  a musical review over a broken guitar that has received over 500,000 hits on YouTube, and reversed United Airlines' position on baggage handling. Or, speaking from my own experience, blasting out to their 3,000 Twitter follows when the customer service rep at their local big box store greets their tale of a broken appliance with, "Whatever…"
So the next time you find yourself in a situation where you've dropped the ball, and/or there's no clear right or wrong, step up: play it up—meet, and perhaps even exceed—the person's level of concern. I guarantee you'll both move on more quickly.
Frances Cole Jones
Watch the YouTube Video