Speaking
Tired of keynote speakers whose big ideas leave your team inspired in the moment, but lack the practical application element that gets that inspiration back to the office? Then you're ready for Frances Cole Jones.
Through critical, perfectly timed advice, amusing anecdotes, and proven strategies, Frances gives you the tools you need – daring, fluidity and mental strength—to stay afloat in today's sink-or-swim environment.
Her topics include: 
"10 Things You Can Do Today to Wow Tomorrow": Big ideas are all well and good, but if you need your team up to speed by tomorrow, you need this talk. It includes: how to incorporate the 12 most persuasive words in the English language; techniques for inter-office conflict resolution; how to read others' body language to decode unspoken agendas and achieve your objective; efficient, effective, and professional phone/email guidelines; the art of the interruption; how to handle hostile Q & A.
"The Art of Selling":  Regardless of your product or service, there is a proven formula for selling anyone, anything, anytime— a literal A + B = C (which includes the one word that increases listener buy-in from 60 to 94%. No, that's not a typo.) This talk breaks down the mystery behind why some pitches work and others fail, so you never again leave wondering, "What happened?"
"Catch Your Customer's Attention– Keep Their Trust": Every selling situation has a driver, a facilitator and a gatekeeper– do you have the bait necessary for each? And once you've caught them, how do you keep them coming back? This talk offers immediately applicable methods for finding new, and retaining your established, customers.
Feels Like (Virtual) Team Spirit: With more and more offices spread across offices, time zones, and countries, virtual teams are becoming a must. Through group participation and case studies Frances demonstrates how to run an efficient and effective virtual team, and leaves you with a literal top 10 list of elements that must be in place going forward.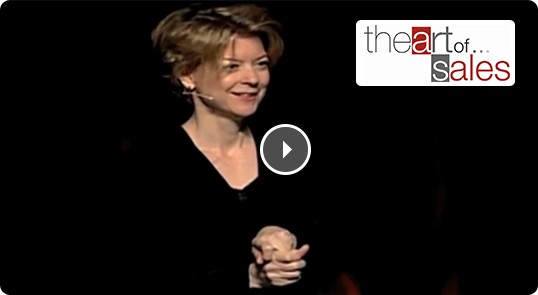 Once you hear a presentation from Frances, you're on your way to a more engaging delivery style. Her sense of humor, wit and directness is both instructive and entertaining and a true asset to any event or training. I highly recommend her for speaking engagements.
Frances made such an impact on our group. People who were presenting after her, scrambled to change their presentations based on the teachings they had just learned. I have had numerous comments from my attendees about how useful Frances' information was and will be in their every day business.

Frances brings her books to life with an engaging and entertaining presentation. I would highly recommend Frances to any group or organization wanting to improve their ability to make an positive, lasting impact their clientele.

I just wanted to thank you again for the incredible job you did speaking at The Art of Sales in Calgary and Vancouver. You were excellent. I have heard numerous comments from attendees on how much they enjoyed your presentation.

Frances Cole Jones teaches and refines the art of interpersonal communication. After reading her books, I feel equipped with better skills to project my strengths and talents. How to Wow and The Wow Factor have brought out the best in me—the concepts she teaches are literally second nature to me now.
Frances, Thank you so much for the kind note and the incredible insights you shared with my team. Everyone is just so enthused by your training and I can already see how invaluable it will be for us!
All my very best, Nina

I was in the audience for your talk to the SCCA group a few weeks back (in Rhode Island) and it was phenomenal! I have to say that it is one of the only presentations that I took notes on because it was the one presentation that is directly applicable to my work with students.
So many students are just concerned with how to answer certain interview questions and to be honest, a lot of my counseling for interviews surrounds that. But after listening to you, I realize how important everything else is too.